Aurora Borealis
---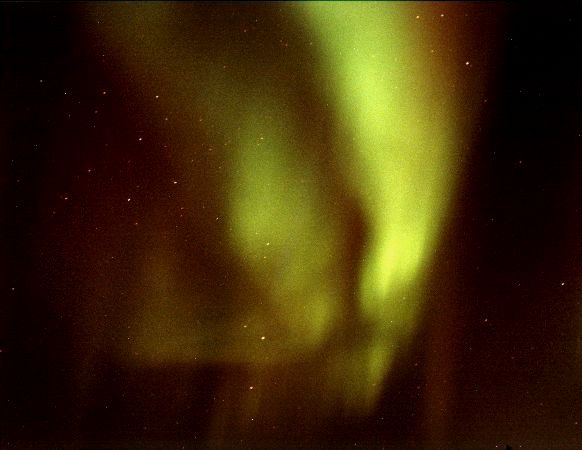 ---
The Northern Lights
The aurora borealis is an awesome sight. When I observed this aurora in Alaska, it moved across the sky in a ghostly manner, generally from east to west. We observed green curtains with a pinkish color near the bottom of the curtain. The green color comes from atomic oxygen between 60 and 100 miles in altitude. The pinkish color that we saw near the bottom of the curtain was the result of molecular nitrogen. The red color near the top of the curtain and surrounding it is caused by atomic oxygen higher than 100 miles in the atmosphere. Although the red color at the top of the curtain shows well in this photograph, it was difficult to detect visually. On the other hand, the pinkish color that was so obvious at times near the bottom of the curtain was not recorded in this photo. Some of the background stars are visible in the photo.
This shot was taken with a Mamiya 645AF camera and an 80mm lens using Fuji 800 speed 120 film. These medium format photographs made beautiful 11 x 14 prints.
---
March 1, 2003 at 0820 U.T.
Photo by Sid Leach
Chena Hot Springs, Alaska.
---
Recent Images.
Complete list of images.
Description of equipment used to acquire images.
Home
Feedback and comments should go to Sid