Aurora Borealis
---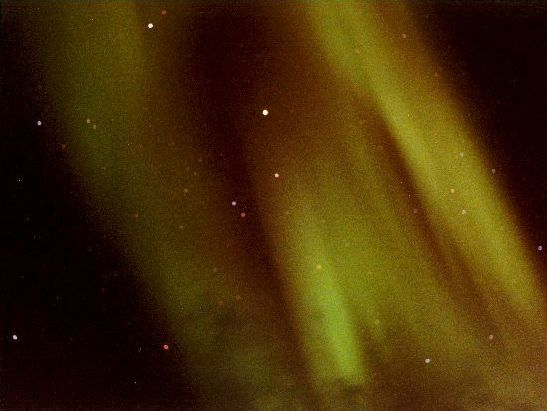 ---
The Northern Lights
On the night that this photo was taken, I went with a group of 30 people to the top of a mountain at a dark sky spot in hopes of observing an aurora. The skies were completely clouded over, and at 1:00 a.m., almost everyone gave up and went back to the resort for some sleep. Only three of us stayed. Actually, I thought it was almost silly to stay with such heavy cloud cover, but I was not sleepy and really wanted to see the aurora. About thirty minutes after the rest of the group had gone to bed, the heavy cloud cover amazingly seemed to evaporate. The skies became completely clear in just about 15 minutes. And to top it off, as the skies were clearing we were treated to an impressive aurora display. This photo was taken at the beginning of the display, and you can still see some clouds at the bottom of the photo.
This shot was taken with a Mamiya 645AF camera and an 80mm lens using Fuji 800 speed 120 film.
---
February 28, 2003 at 1045 U.T.
Photo by Sid Leach
Chena Hot Springs, Alaska.
---
Recent images.
Complete list of images.
Description of equipment used to acquire images.
Home
Feedback and comments should go to Sid