NGC 6804
---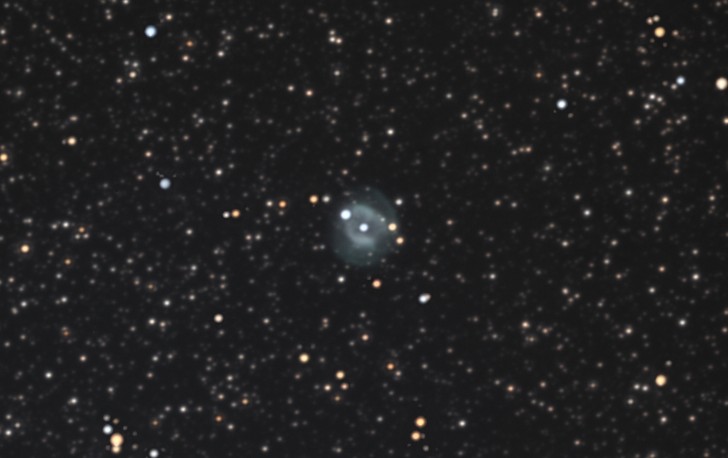 ---
NGC 6804
NGC 6804 is a planetary nebula in Aquila. This object is sometimes called the "snowball nebula." NGC 6804 is about 1.1 x 1.1 arc-minutes in diameter. NGC 6804 ia located about 4,200 light-years away. The planetary nebula is rated at magnitude 12.0, and is visible in a 6-inch telescope. This planetary nebula was discovered by Herschel. Interestingly, the constellation Aquila does not have any objects that made the Messier List, Perhaps this area of the sky was just overlooked by Messier, because the constellation has 17 open clusters, 112 planetary nebulae, 133 dark nebulae, 3762 galaxies, 3 globular star clusters, 1 diffuse nebula, and even 4 quasars. I also have an image of NGC 6781, which is another interesting planetary nebula in Aquila.
This image was taken from Mount Lemmon using a 24-inch RCOS telescope that is operated by Adam Block. Adam Block is conducting a nightly observing program at the Mount Lemmon SkyCenter run by the University of Arizona that is open to the public. You can view and understand the night sky with an expert astronomer to guide you on an adventure under the stars. The RCOS 24-inch telescope that I used to take this image is dedicated to that program. I highly recommend the public outreach programs at the Mount Lemmon SkyCenter.
This is an LRGB composite CCD image taken with an SBIG STL-11000M CCD and a RCOS 24-inch telescope. The image was one of the first images taken with the 24-inch RCOS telescope on Mount Lemmon at the Mount Lemmon SkyCenter.
NGC 6804
Constellation: Aquila
RA: 19h 31m 35s Dec: +09d 13' 33" (Equatorial 2000)
April 17, 2008
Image by Sid Leach and Adam Block
Mt. Lemmon, Arizona
---
Recent Images.
Complete list of images.
Description of equipment used to acquire images.
Home
Feedback and comments should go to Sid