The Cocoon Nebula
---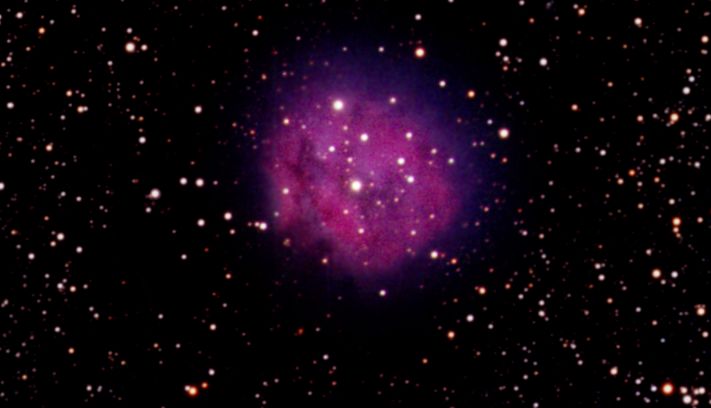 ---
The Cocoon Nebula
The Cocoon Nebula is located about 4 degrees southeast of the bright open cluster M39 in Cygnus. Through an small amateur size telescope, it is a faint emission nebula glowing at about magnitude 7. The nebula surrounds a sparse open cluster of stars at the eastern end of the long, thin dark nebula known as Bernard 168. It encompasses a size of 12 arc-minutes. The nebula is located about 1300 light-years from Earth. This nebula is a small part of a dense molecular cloud in which new stars are forming.
This nebula is an interesting object through larger size scopes, and has dark lanes traversing it much like the Trifid Nebula in Sagittarius. The best way to see these interesting features is with long exposure photography or CCD imaging.
This image was taken from my backyard in Scottsdale, Arizona. It is an RGB color composite CCD image taken at prime focus on a Takahashi FCT-150 refractor with an SBIG ST-8E CCD and CFW-8 color filter wheel. The exposures were taken over the course of two nights.
IC 5146
Constellation: Cygnus
RA: 21h 53m 24s Dec: +47d 16' 00" (J2000)
June 14-15, 2003
Image by Sid Leach
Scottsdale, Arizona
---
Recent Images.
Complete list of images.
Description of equipment used to acquire images.
Home
Feedback and comments should go to Sid