NGC 4565
---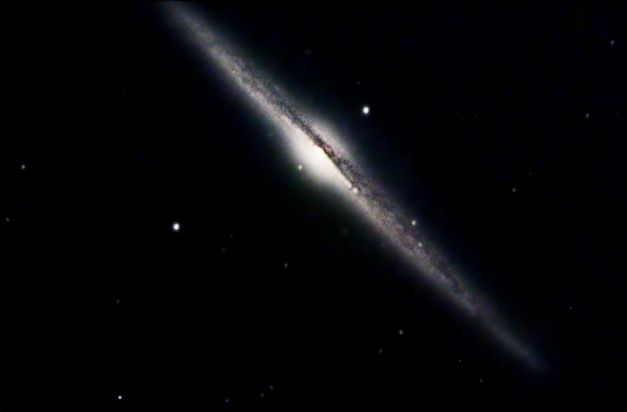 ---
NGC 4565
NGC 4565 in Coma Berenices is a perfect example of a spiral galaxy that is seen edge-on from our perspective. The galaxy has a dust band that stands out from the nucleus of the galaxy. NGC 4565 is considered to be the most famous of the edge-on galaxies. Compare this galaxy to NGC 891 which is also seen edge-on from our vantage point.
NGC 4565 shines at magnitude 9.5. This galaxy has a size of 15.8 arc-minutes by 2.1 arc-minutes at a position angle of 136 degrees. It is the largest of the edge-on galaxies, and is a fine object to view with amateur-size telescopes. It is located near M64 (the Black Eye Galaxy). NGC 4565 is only about 3 degrees from the North Galactic Pole.
This is an LRGB color composite CCD image taken at prime focus on a Takahashi Mewlon 210 telescope at f11.5 with an SBIG ST-8XE CCD and CFW-8 color filter wheel. An Optec TCF-S focuser was used. All images were obtained automatically using ACP software. This image was taken from my backyard in Scottsdale, Arizona.
NGC 4565
Constellation: Coma Berenices
RA: 12h 36m 20s Dec: +25d 59' 16" (J2000)
June 1, 2005
Image by Sid Leach
Scottsdale, Arizona
---
Recent Images.
Complete list of images.
Description of equipment used to acquire images.
Home
Feedback and comments should go to Sid