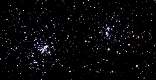 Star Clusters
---
M13 A color CCD image of the Hercules Star Cluster taken with an SBIG STL-11000M using a 24-inch RCOS telescope on Mount Lemmon. (April 17, 2008) (624KB) This image was published in the June 2009 issue of Astronomy Magazine.
M67 open star cluster. An RGB color composite CCD image taken with a Takahashi Epsilon 180ED using an SBIG STL-11000M CCD. (January 1 & 2, 2012) (335KB)
M46 A color CCD image of the open star cluster M46 and planetary nebula NGC 2438 taken with a Takahashi FCT-150 and ST-8E CCD. (March 9 & 11, 2004) (57KB).
M44 The Beehive Star Cluster. An RGB color CCD image taken with an SBIG STL-11000M using a Takahashi Epsilon 180ED telescope. (December 30 & 31, 2011) (197KB)
M55 globular star cluster. An RGB color CCD image taken with an SBIG ST-8XE using a Takahashi FCT-150. (April 22, 2006) (153KB)
M45 The Pleiades Star Cluster. An RGB color CCD image taken with an SBIG STL-11000M CCD using a Takahashi FCT-150. (January 18, 2009) (117KB)
M26 open star cluster. An RGB color CCD image taken with a Takahashi Epsilon 180ED and STL-11000M CCD. (March 15, 2009) (430KB)
M52 open star cluster and the Bubble Nebula. An RGB color CCD image taken with an SBIG STL-11000M using a Takahashi FCT-150. (January 18, 2009) (242KB)
NGC 2244 An RGB color composite CCD image taken from my backyard using a Takahashi FCT-150 and an SBIG ST-8E CCD. (January 18 & 19, 2005) (62KB)
M35 open star cluster. An RGB color CCD image taken with an SBIG ST-8XE using a Takahashi FCT-150 refractor. (February 2, 2006) (41KB)
M41 open star cluster. An RGB color CCD image taken with a Takahashi Epsilon 180ED telescope using an SBIG ST-8XE CCD. (January 27, 2009) (162KB)
NGC 5139 The Omega Centauri globular star cluster. A tri-color CCD image using an SBIG ST-8 taken on a Takahashi FS-128. (March 16, 1999) (106KB)
M4 globular star cluster. An RGB color CCD image with an SBIG ST-8E taken using a Takahashi FCT-150. (March 25, 2001) (155KB)
M7 Ptolemy's Star Cluster. An RGB color composite CCD image taken with a Takahashi Epsilon 180ED using an SBIG STL-11000M CCD. (July 3, 2010) (534KB)
M6 The Butterfly Cluster. A photograph taken with a Mamiya 645AF camera piggyback on a telescope mount. (May 11, 2004) (71KB)
M3 globular star cluster. An RGB color CCD image taken with a Takahashi FCT-150 using an SBIG STL-11000M CCD. (January 23, 2011) (324KB)
M15 globular star cluster. An RGB CCD image taken with a Takahashi FS-128 and an ST-8E CCD from my backyard. (August 10, 2003) (34KB)
M22 globular star cluster. An RGB color CCD image taken with an SBIG ST-8E using a Takahashi FS-128. (July 2, 2000) (121KB)
M11 The Wild Duck star cluster. This RGB color CCD image was taken from my backyard in Scottsdale, Arizona, with a Takahashi FCT-150 using an SBIG ST-8E CCD. (March 20, 2004) (58KB)
NGC 869 & NGC 884 The Perseus Double Cluster of stars. An RGB color composite CCD image taken with a Takahashi Epsilon 180ED. (November 22, 2009) (552KB)
47 Tucanae globular star cluster. An LRGB color composite CCD image taken using a Takahashi FS-78 and ST-8XE from Lake Titicaca, Bolivia. (Sept. 2 & 4, 2005) (30KB)
M38 open star cluster. A CCD image taken with an SBIG ST-8XE using a Takahashi FCT-150. (January 5, 2006) (46KB)
M19 globular star cluster. An RGB color CCD image taken with an SBIG ST-8XE using a Takahashi FCT-150 refractor. (April 6, 2006) (153KB)
M14 globular star cluster. An RGB CCD image taken with a Takahashi FS-128 and an ST-8E CCD from my backyard. (April 25, 2004) (30KB)
M5 globular star cluster. An LRGB color CCD image taken with a Takahashi FCT-150 and ST-8E CCD. (March 8, 2004) (31KB)
M3 globular star cluster. An RGB color CCD image taken with a Takahashi FS-78 using an SBIG ST-8E CCD. (January 11, 2004) (80KB)
NGC 4755 The Jewel Box. An RGB color composite CCD image taken using a Takahashi FS-78 and ST-8XE from Lake Titicaca, Bolivia. (September 3, 2005) (39KB)
NGC 6520 open star cluster. An RGB color composite CCD image taken with an SBIG ST-8E using a Takahashi FCT-150. (June 10, 2003) (142KB)
NGC 2516 The Southern Beehive Star Cluster. An RGB color composite CCD image taken using a Takahashi FS-78 and ST-8XE from Lake Titicaca, Bolivia (September 3, 2005) (33KB)
M13 The Hercules globular star cluster. An LRGB color CCD image with an SBIG ST-8 taken using a Takahashi FS-128. (September 28, 1998) (49KB)
M103 open star cluster. An RGB color composite CCD image taken with an SBIG ST-8E using a Takahashi FS-128. (July 16, 2000) (33KB)
M39 open star cluster. A CCD image taken with an SBIG ST-8XE using a Takahashi FCT-150. (April 16, 2006) (104KB)
M12 globular star cluster. An LRGB color composite CCD image taken using a Takahashi FCT-150 and ST-8E from my backyard. (April 20, 2005) (65KB)
M37 open star cluster. A color CCD image taken with an SBIG ST-8 using a Takahashi FCT-150. (February 17, 2001) (89KB)
M10 globular star cluster. An RGB color CCD image taken with an SBIG ST-8XE using a Takahashi FCT-150 refractor. (February 25, 2006) (59KB)
M2 globular star cluster. An RGB color CCD image taken with an SBIG ST-8XE using a Takahashi Epsilon 250 telescope. (July 13, 2005) (34KB)
M50 open star cluster. An RGB color CCD image taken with an SBIG ST-8XE using a Takahashi FCT-150 refractor. (March 4 and April 10, 2006) (245KB)
M23 open star cluster. An RGB color CCD image taken with an SBIG ST-8XE using a Takahashi FCT-150 refractor. (February 22, 2006) (87KB)
M28 globular star cluster. An RGB color CCD image taken with an SBIG ST-8XE using a Takahashi FCT-150 refractor. (April 8, 2006) (196KB)
M18 open star cluster. An RGB color CCD image taken with an SBIG ST-8XE using a Takahashi FCT-150 refractor. (April 11, 2006) (154KB)
M9 globular star cluster. An RGB color CCD image taken with an SBIG ST-8XE using a Takahashi FCT-150 refractor. (April 12, 2006) (188KB)
M92 globular star cluster. An LRGB color CCD image with an SBIG ST-8E taken using a Takahashi FS-128 refractor with a reducer at f5.9. (July 9, 2000) (59KB)
M69 globular star cluster. An RGB color CCD image with an SBIG ST-8E taken using a Takahashi FCT-150. (July 15, 2001) (74KB)
M36 open star cluster. An RGB color CCD image taken with an SBIG ST-8XE using a Takahashi Epsilon 180ED. (February 2, 2009) (214KB)
M68 globular star cluster. A color CCD image taken with an SBIG ST-8XE using a Takahashi FCT-150 refractor. (April 7, 2006) (62KB)
M93 open star cluster. A color CCD image taken with an ST-8XE CCD at prime focus using a Takahashi FS-78 refractor. (December 2, 2007) (329KB)
M7 Ptolemy's Cluster. A photograph taken with a Mamiya 645AF camera piggyback on a telescope mount. (May 11, 2004) (77KB)
M21 open star cluster. A color CCD image taken with an SBIG ST-8XE using a Takahashi FCT-150 refractor. (April 9, 2006) (134KB)
M25 open star cluster. An RGB color CCD image taken with an SBIG ST-8XE using a Takahashi FCT-150 refractor. (April 27, 2006) (212KB)
M29 open star cluster. An RGB color CCD image taken with an SBIG ST-8XE using a Takahashi FCT-150 refractor. (March 26, 2006) (40KB)
M34 open star cluster. An RGB color CCD image taken with an SBIG ST-8XE using a Takahashi FCT-150. (July 13, 2005) (48KB)
Christmas Tree Star Cluster An RGB color CCD image taken with an SBIG ST-8XE using a Takahashi FS-78. (December 3, 2007) (35KB)
M24 star cloud. An RGB color CCD image taken with an SBIG ST-8XE using a Takahashi FCT-150. (July 10, 2005) (245KB)
M44 The Beehive Star Cluster. An RGB color CCD image taken with an SBIG ST-8XE at prime focus using a Takahashi FS-78. (November 25, 2007) (32KB)
M48 open star cluster. An RGB color CCD image taken with an SBIG ST-8XE using a Takahashi FCT-150. (February 19, 2006) (29KB)
M47 open star cluster. An RGB color CCD image taken with an SBIG ST-8XE using a Takahashi FCT-150. (April 9, 2006) (37KB)
M53 globular star cluster. An RGB color CCD image taken with an SBIG ST-8XE using a Takahashi FCT-150. (December 31, 2005) (37KB)
M71 globular star cluster. An RGB color CCD image taken with an SBIG ST-8XE using a Takahashi Epsilon 250. (July 9, 2005) (181KB)
NGC 6811 open star cluster. An RGB color CCD image taken with a Takahashi Epsilon 180ED and STL-11000M CCD. (June 14, 2009) (463KB)
M107 globular star cluster. An RGB color CCD image taken with an SBIG ST-8XE using a Takahashi FCT-150. (March 3, 2006) (76KB)
M54 globular star cluster. An RGB color CCD image taken with an SBIG ST-8XE using a Takahashi FCT-150. (April 25, 2006) (113KB)
M56 globular star cluster. An RGB color CCD image taken with an SBIG ST-8XE using a Takahashi FCT-150. (March 8, 2006) (60KB)
M72 globular star cluster. An RGB color CCD image taken with an SBIG ST-8XE using a Takahashi FCT-150. (May 24, 2006) (25KB)
M79 globular star cluster. An RGB color CCD image taken with an SBIG STL-11000M using a Takahashi FCT-150. (January 12, 16, 18 & 19, 2008) (85KB)
M62 globular star cluster. An RGB color CCD image taken with an SBIG ST-8XE using a Takahashi FCT-150. (April 6, 2006) (60KB)
M67 open star cluster. A CCD image taken with an SBIG ST-8E using a Takahashi FS-78. (January 19, 2004) (30KB)
M41 open star cluster. A color CCD image taken with a Canon EOS 300 Digital Rebel SLR at prime focus using a Takahashi FS-78. (November 26, 2004) (44KB)
M70 globular star cluster. An RGB color CCD image taken with an SBIG ST-8XE using a Takahashi FCT-150. (April 12, 2006) (181KB)
M75 globular star cluster. An RGB color CCD image taken with an SBIG ST-8XE using a Takahashi FCT-150. (April 16, 2006) (16KB)
M73 group of stars. An RGB color CCD image taken with an SBIG ST-8XE using a Takahashi FS-78. (December 3, 2007) (70KB)
M80 globular star cluster. An RGB color CCD image taken with an SBIG ST-8XE using a Takahashi FCT-150. (March 5, 2006) (41KB)
---






---
Recent Images.
Complete list of images.
Description of equipment used to acquire images.
Home
Feedback and comments should go to Sid